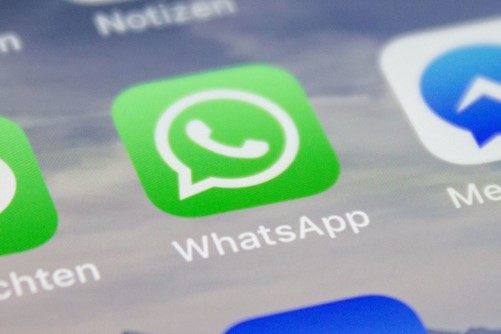 General features
Messaging
Group chats
Linkage with desktop possible
Voice recordings and video calls
Document sharing
End-to-end encryption (security by default)
Main teaching features
Collaboration: Student groups or projects can team up outside of the classroom in a WhatsApp group where they can organise resources, and information and develop ideas for their tasks. WhatsApp groups can be accessed anytime and anywhere, and it is particularly useful when students work from home.
Learning time extension: If there is not enough time to complete or work through certain activities during sessions, the WhatsApp group may be used as a space to provide extended tasks and activities for the students to work on certain skills. They may send you their documents and completed tasks via private messaging as this will retain their privacy.
Management of large classes: In the case of large classes, WhatsApp groups enable the dividing of the class into smaller groups that have their specific communications. This enables to work in smaller teams and students may develop more focused communication. Also, it is easier to keep track of questions as each group will send notifications of new messages.
Flipped classroom: WhatsApp groups enable flipped classroom approaches. You may share videos before sessions and ask students to answer and prepare questions about the video.
Main concerns
Message and notification overload: Providing class access to WhatsApp groups may lead to an overload of message notifications and messages. Keeping an overview of who posts what when can be challenging.
Overload of learning material: It may be distractive and stressful if you post multiple sources and information about module content in the WhatsApp groups.
Inappropriate content: Some students may decide to share inappropriate content and distract the flow and purpose of the groups.
Inappropriate language: Students may use inappropriate language due to the rather informal chat setting that can be accessed anytime and anywhere.
Access: If WhatsApp groups are used and some students do not have access to the platforms this may lead to inequality in the classroom and inequal provision of information and knowledge.
Read more about how to stay safe online go to:
⇒ Online Safety and Planning Checklist
⇒ Online safety and wellbeing: Self-Help
Questions before you start
Do you provide students with WhatsApp specific guide about the code of conduct when using group chats?
Do you use WhatsApp groups for specific tasks or general discussions?
Do you collect and store students' resources and works that they submit and send through WhatsApp?
Do you have sufficient skills to manage WhatsApp features and if not, how are you attempting to acquire such knowledge?
If you use flipped classroom features, how do you intend to record the videos and where do you store them (YouTube?).
Case study
Al-Omary (2016) in The Impact of SNS in Higher Education: A Case Study of using WhatsApp in the University of Bahrain conducted an experimental study to explore the impact of WhatsApp on teaching and learning activities at the University of Bahrain. As part of the experiment, the educators set up two WhatsApp Groups (undergraduate and graduates) that complement in-class teaching activities.
The study shows WhatsApp may positively impact students learning attitudes, and achievements. Students appeared to improve their learning outcomes and experienced WhatsApp as a helpful learning tool. The students benefitted from the sharing of lesson-specific material and information. Further, they appeared to improve their teamwork skills as well as their lecture attendance and overall engagement during classes.
WhatsApp was also applied during classes to enhance and develop the understanding of concepts. Despite the resulting benefits, WhatsApp increased the educator's workload, and careful management to deal with comments and discussions on WhatsApp during and after working hours was required.
Useful links